AU-1 COMMERCIAL CONSTRUCTION SEALANT
Premium-Grade, High-Performance, High-Movement, Single-Component, Elastomeric, Acrylic Urethane Sealant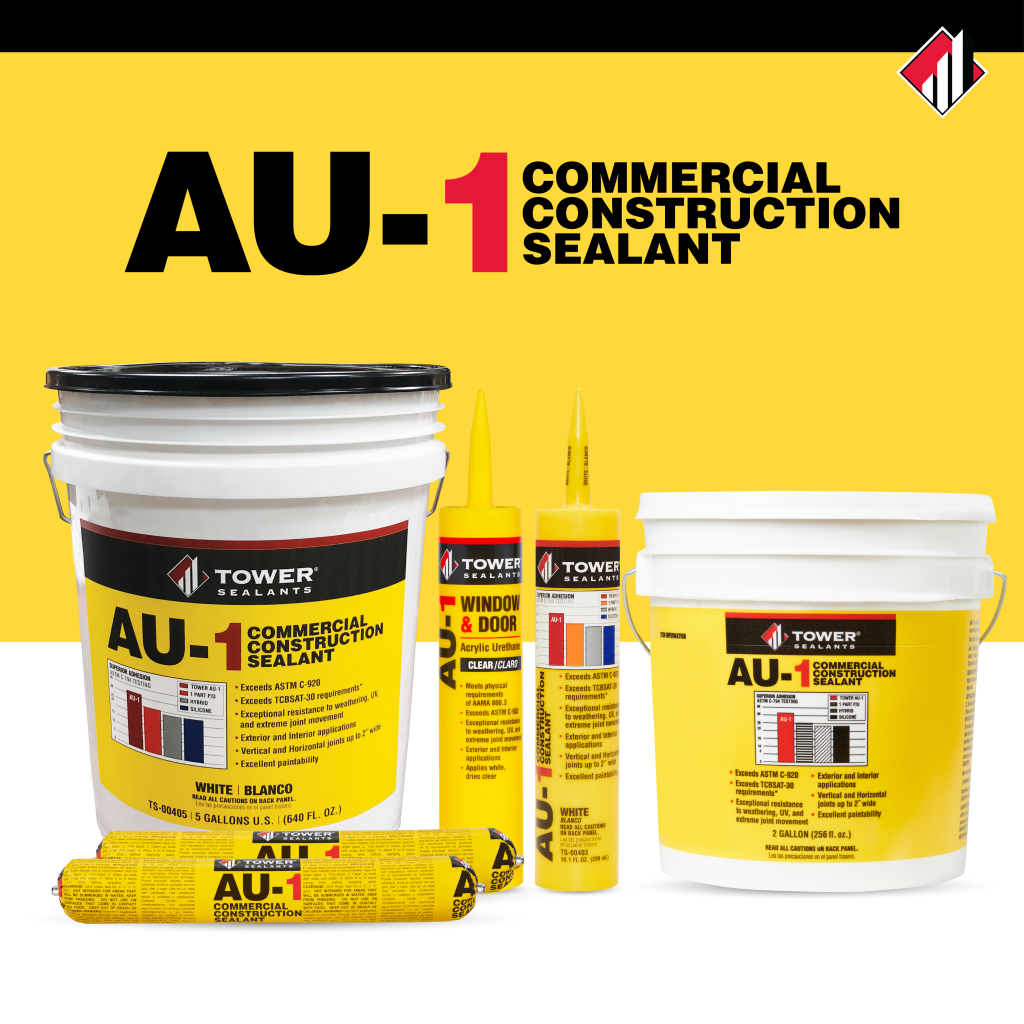 AU-1 is a highly elastic, non-sagging, high-performance construction sealant with extreme resistance to aging. Uniquely formulated from state-of-the-art ingredients, including Aqueous Polyurethane Dispersion (PUD), which makes it an ideal sealant for commercial and industrial applications. AU-1 requires no mixing or priming to bond at the molecular level to most construction caulking materials. AU-1 is a paintable sealant and will never bleed through the paint finish or create tacky surfaces, making it resistant to dirt pickup. Once cured AU-1 is exceptionally resistant to mold and mildew. AU-1 has outstanding UV resistance and maintains high elasticity and adhesion in all climates even after years of exposure. It is VOC compliant nationwide including all CARB and SCAQMD requirements. AU-1 does not lose elasticity under dynamic mechanical stress.
A single component, modified acrylic urethane, AU-1 is a premium sealant that is high-performance and designed for high-movement. This construction adhesive sealant is free of plasticizers and more eco-friendly than other products on the market. Every AU-1 construction sealant cartridge is air vacuum filled to prevent any air pockets and handled with the utmost quality assurance.
Specifications of AU-1 construction sealants include:
ASTM C-920 Class 25
ASTM C-834 -18ºC
Fed Spec TTS-00230C
Meets physical requirements of AAMA 808.3
TCBSAT-30*
AU-1 elastomeric caulking sealant is a new product unaffected by supply chain issues, and it's becoming the leading choice for construction sealants. As the manufacturer, TOWER® Sealants has an inventory ready to pack and ship within days following your order.
Learn More About AU-1 For Window & Door
Learn More About AU-1 For Concrete Construction
Product Images
AU-1 Job Site Images
Features and Benefits of AU-1 Acrylic Urethane Elastomeric Sealant:
As an emerging construction adhesive sealant, acrylic urethane elastomeric sealing products are unlike other types on the market. Unlike polyurethane sealants, silicone, hybrid products and advanced polymer sealants, AU-1 has superior durability and versatility that requires little preparation and treatment to function at its best. No mixing is required, and the user-friendly application allows for a fast and clean finish.
AU-1 elastomeric sealant comes in multiple colors for various project needs, and it works for concrete, stucco, masonry, metal, glass and much more. This sealant is becoming the new industry standard for its:
•    Industry leading durability
•    Exceptional resistance to weathering, UV rays and extreme joint movement
•    Time savings — simplified application & cleaning process reduces labor
•    Sealing capability on vertical and horizontal joints up to 2" wide
•    Lack of priming requirements on most substrates
•    Compatibility with painting
•    50% joint movement (± 25%) and 800% elongation
•   Meets volatile organic compound (VOC) requirements for all 50 states
Features and Benefits of AU-1 Acrylic Urethane Elastomeric Sealant:
Given its strength and ease of use, one of the leading applications of AU-1 is window and door installation. The superior adhesion and UV resistance allow the sealant to withstand seasonal weather and heavy use. With the wide selection of colors available, teams can find the right match for their doors and windows on a given project. When colors are more unique, AU-1 elastomeric sealant works well with paint to deliver a uniform and clean look.
Other applications for AU-1 sealants in construction include:
Concrete Panel Joints
Restoration
Tilt-up Waterproofing
Expansion Joints & Control Joints
Siding Installation
Soffit & Flashing
Precast Units
EIFS
AU-1 sealant can be ordered and shipped in the following sizes:
10.1 oz. cartridge
20 oz. sausage
2 gal. or 5 gal. pail
AU-1 sealant can be ordered and shipped in the following sizes:
10.1 oz. cartridge
20 oz. sausage
2 gal. or 5 gal. pail
Sausage packaging options can be an excellent way to reduce waste on your job site and lower disposal costs. Our flexibility in packaging sizes allows you to have the right amount of product you need for every project.
Pails of AU-1 are more convenient than other technologies, as the pails can be re-sealed, and reused without worry of the product curing in the pail.
Contact TOWER Sealants — the Commercial and Construction Sealants Experts:
TOWER Sealants ships AU-1 construction sealant in the United States, Canada, and anywhere to support your caulking in construction projects. This industrial sealant provides the ease of application and impressive performance needed for windows, siding, flashing, restoration and more.
To learn more about AU-1, download our color, product and safety data sheets. You can also reach out to the experts at TOWER Sealants for more information. Find out where to buy AU-1 today, and use our dealer resources if you intend to sell our product in stores.
Contact Us